Nat Reeves has built a successful career touring the world with some of the most important figures in jazz in the last half-century. His work as a prominent educator at The Hartt School, Jackie McLean Institute of Jazz has spanned over 30 years. As a bassist, he is regarded as a precise accompanist, known for his impeccable time, deep tones and great earthy, organic sound. As an educator, Nat mentors some of the future greats of jazz.
Read the full bio at The Hartt School…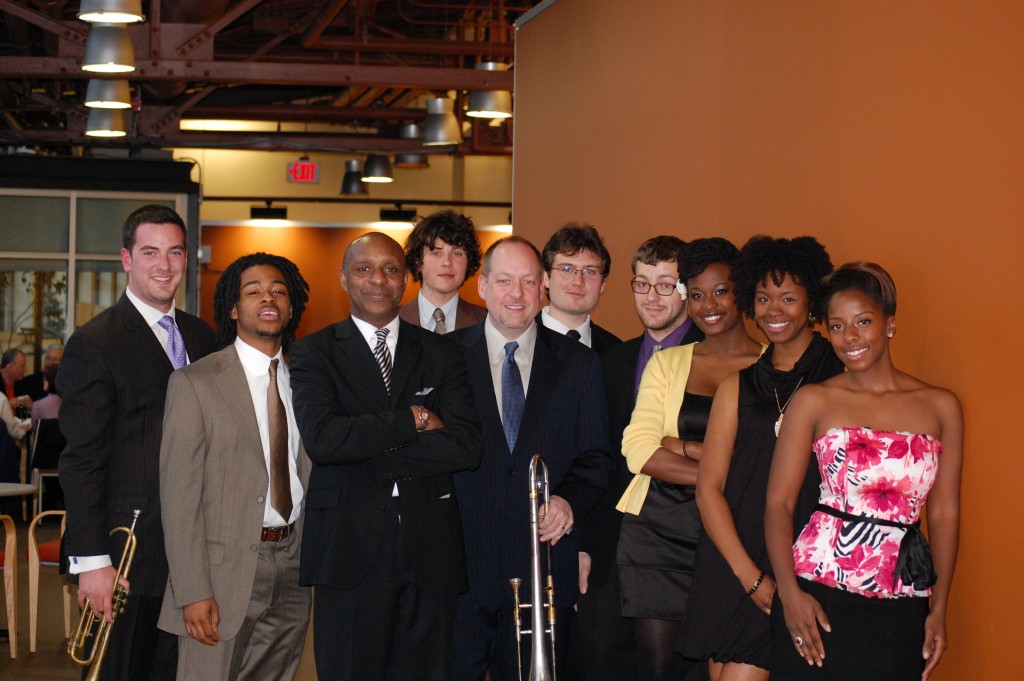 2019 Realie Award Presented to Nat Reeves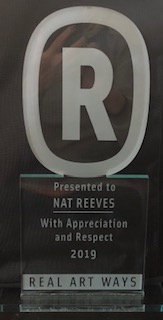 The REALIE AWARDS honor special people who have made significant contributions to Real Art Ways and to the community.
Real Art Ways https://www.realartways.org is a national arts organization based in Hartford, CT.
Nat Reeves Honored for 35 Years of Service at University of Hartford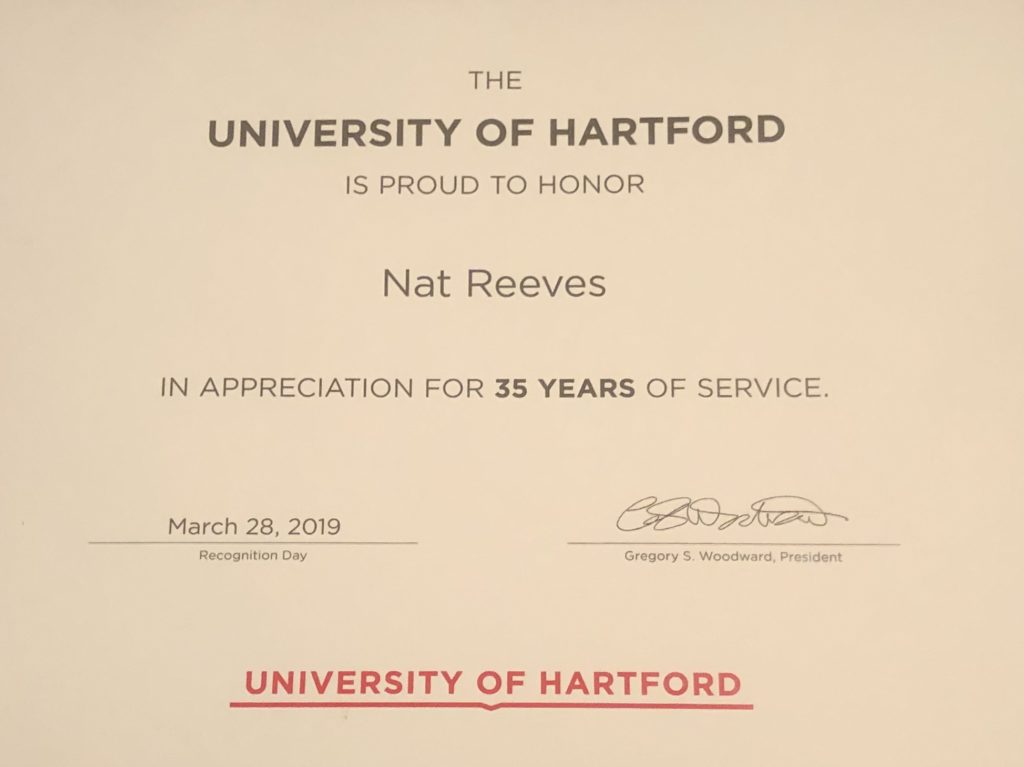 Bent Award for Scholarly and Artistic Creativity
On May 17, 2015, Nat Reeves was presented with the James E. and Francis W. Bent Award for Scholarly and Artistic Creativity by the University of Hartford in West Hartford, Connecticut. The President of the University, Walter Harrison, presented the award at the 2015 University of Hartford Commencement Ceremony. His presentation is quoted as follows:
Professor Reeves, the Bent award is named for James E. and Francis W. Bent and is given each year to a faculty member who has displayed unusual creativity and innovation in the pursuit of his or her scholarship. Your contributions in this regard bring great credit to the University of Hartford and constitute a model of what we expect of our finest faculty members. Congratulations.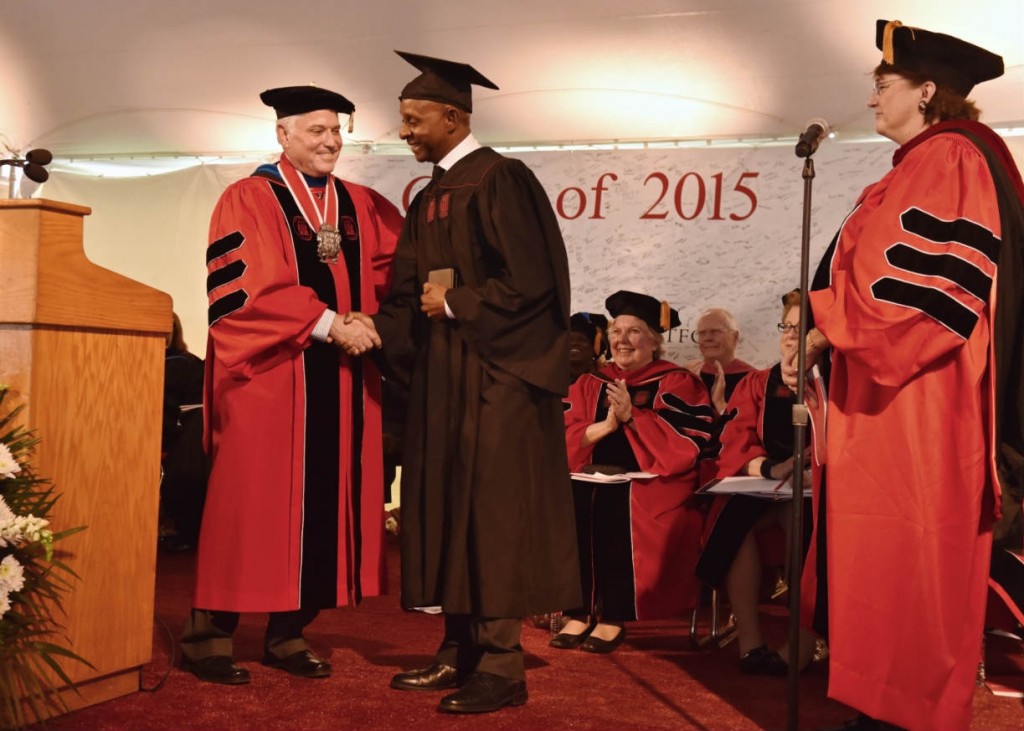 Phi Mu Alpha Sinfonia Fraternity of America Zeta Omega Chapter
May 3,2016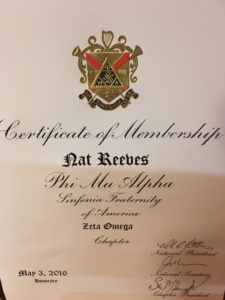 Kenny Garrett 'Jazz Play Along'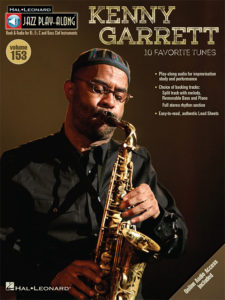 For use with all B-flat, E-flat, Bass Clef, and C instruments, the Jazz Play-Along series is the ultimate learning tool for all jazz musicians. With musician-friendly lead sheets, melody cues, and other split-track choices on the included online audio (access code printed on the inside book cover), this first-of-its-kind package makes learning to play jazz easier than ever before. FOR STUDY, each tune includes a split track with: • Melody cue with proper style and inflection • Professional rhythm tracks • Choruses for soloing • Removable bass part • Removable piano part. FOR PERFORMANCE, each tune also has: • An additional full stereo accompaniment track (no melody) • Additional choruses for soloing. The audio files include PLAYBACK+, a multi-functional audio player that allows you to slow down audio without changing pitch, set loop points, change keys, and pan left or right – available exclusively from Hal Leonard!
This volume includes: Chief Blackwater • Happy People • Ja-Hed • November 15 • Organized Colors • Sing a Song of Song • Song #8 • Sounds of the Flying Pygmies • 2 Down and 1 Across • Wayne's Thang.
This item can be purchased here.